After a night of gambling and drinking at the Golden Nugget, it may seem like a safe decision to call a rideshare service to get you home. Yet, rideshare drivers are just like us, and they, too, make mistakes. Unfortunately, these mistakes can lead to grave consequences and result in devastating injuries, debilitating pain, and astronomical medical expenses that can forever change your life.
Although ridesharing services have revolutionized how we travel and get around Atlantic City, they are not without their problems, especially since rideshare companies allow almost anyone to become a driver.
However, if you have been involved in an Atlantic City rideshare accident, you do not have to go through this tragic ordeal alone. At The Levin Firm, our ridesharing accident attorneys are here for you, ready to fight for your rights and go after the justice and compensation you deserve.
Common Causes of Atlantic City Ridesharing Accidents
Although ridesharing accidents in Atlantic City are often the result of human error, various other causes can lead to this horrifying accident.
In Atlantic City, some of the most common causes of ridesharing accidents include:
Inexperienced drivers
Road rage
Common Injuries Resulting from an Atlantic City Ridesharing Accident
Unfortunately, ridesharing accidents can cause devastating harm to virtually any part of your body.
Yet, generally, these crashes result in:
Head and traumatic brain injuries
Back and neck injuries
Deep lacerations
Broken bones
Spinal cord damage
Burns
Soft tissue injuries
Internal bleeding and damage
Scarring
Disfigurement
Atlantic City Rideshare Accidents—Who is Liable?
One of the most common questions victims have after a rideshare crash is who is liable for their damages. Unfortunately, the answer to this question is not as straightforward as many people expect it to be. This is because ridesharing services are unique, and there are often many circumstances that can affect liability.
For instance, questions that need to be examined following a crash include:
What caused the ridesharing collision
Was the victim a pedestrian, motorist, or a rideshare passenger
Was the rideshare driver on duty at the time of the collision
Although rideshare services have their own insurance covering their drivers while they are on duty, determining insurance liability is a complicated process that can leave many victims confused and overwhelmed.
However, when victims work with an experienced rideshare accident lawyer, such as those at The Levin Firm, these attorneys can help them get through these complex legal hurdles and go after the money they need.
What Actions Should I Take Following an Atlantic City Ridesharing Accident?
You need to remember that the process of filing a personal injury claim starts at the crash scene—meaning that the actions you take after an Atlantic City ridesharing accident are not only important for your health and safety but your legal rights as well.
That is why, following a rideshare accident, you must:
Contact the Police: After a rideshare accident, you need to contact 911 immediately. This is the fastest way to get EMS to the scene and get your accident on record. Once the police arrive, they can investigate the crash and document their findings in their police report. If you decide to pursue an injury claim, this police report can provide you with valuable details regarding what happened and who was at fault.
Collect Evidence: Try to take as many photos and videos of the accident as you can, including the position of the cars involved in the crash, skid marks on the road, visible injuries, traffic signs near the accident, the weather conditions at the time of the collision, any other evidence that can help show what happened.
Exchange Details: Ensure you get information from all the drivers involved in the crash, including names, contact details, driver's license numbers, license plate numbers, and insurance information.
Get Witness Contact Details: If there were people at the scene who saw what happened, get their name and phone number. Witness statements can help confirm your story's details and even convince the insurance company or the court of the legitimacy of your injuries and the compensation you need.
Contact an Experienced Atlantic City Rideshare Accident Lawyer: You should contact an experienced rideshare accident lawyer as soon as possible following your crash. These lawyers can promptly investigate your accident, determine the legal options you have, and help you fight for the financial recovery you are entitled to.
How Much Time Do I Have to File an Injury Claim Following My Rideshare Accident?
In Atlantic City, you have two years to file a lawsuit against the individual or entity responsible for your harm. This clock will often start ticking on the day of the accident that caused your injury.
However, there are various exceptions to this rule that can shorten or lengthen the amount of time you have to file. That is why it is best not to wait. Instead, you should contact an experienced rideshare accident lawyer like those at The Levin Firm as quickly as possible. These attorneys can go over your claim, determine how much time you have to file, and make sure all your legal documents are adequately prepared and filed before time expires.
How Much Is My Atlantic City Rideshare Accident Case Worth?
It is almost impossible for a lawyer to tell you exactly how much your rideshare accident case may be worth, as there are just too many factors that can impact the value of your claim.
For example, these factors include:
The types of injuries the victim endured
The severity of these injuries
Do doctors believe there can be a full recovery
The extent of the pain and suffering
The defendant's culpability
The credibility of the evidence presented
The type of medical treatments that are needed now and in the future
The effect of the accident and the injuries on the victim's life
Even though an attorney cannot guarantee you financial compensation, working with a skilled rideshare accident lawyer such as those at The Levin Firm can ensure you fight hard for every last dollar you deserve.
If My Injuries Appear Minor, Do I Still Need to See a Doctor After My Atlantic City Rideshare Accident?
Although your injuries may not look serious following a rideshare accident, you should still get them examined by a doctor. Quite often, deadly conditions such as traumatic brain trauma can take days to even weeks to manifest. Yet, the longer you wait to get treatment, the more fatal the situation can become.
In addition, getting prompt medical assistance can help your claim. Insurance companies are looking for any reason to deny your case. By delaying treatment, these companies will try to argue that your injuries are not that serious because of a subsequent event.
Fortunately, when your doctor examines you after the accident, they can document your injuries in their medical report, providing you with a direct link between your injuries and the rideshare accident.
Following My Rideshare Accident, Why Do I Need to Contact The Levin Firm?
You already have enough on your plate following a rideshare accident, you should not have to deal with the stress, injuries, and numerous legal issues on top of everything else. Fortunately, when you work with The Levin Firm, you will not have to go through this challenging ordeal on your own.
Our experienced rideshare accident lawyers can take on these complicated claims for you and provide you the legal help you need, including:
Going over all of your questions and concerns
Determining which legal options you should pursue
Investigating your case and securing the evidence needed to prepare a comprehensive claim
Handling all the negotiations with the insurance company and fighting for a fair settlement
Taking your case to trial, if required, and pursuing maximum damages on your behalf
How Are Ridesharing Services Different From Taxis?
A ridesharing company is often defined as a business that matches passengers who need a ride with a motorist of a vehicle that is for hire. Yet, unlike taxicabs, these ridesharing vehicles cannot be legally hailed from the street.
Rather, passengers need to use a cellphone app to get a ride. In the United States, the two biggest ridesharing companies include Lyft and Uber, which are often used when individuals need to arrange one-way transportation quickly.
Rideshare Insurance—How it Works in Atlantic City
Rideshare insurance can get rather complicated. To simplify this process, here are the most common insurance-related periods you need to be aware of:
Period 0: The Rideshare App Is off, and the Driver Is Offline
During this period, if a crash occurs, the rideshare driver's personal insurance coverage will apply.
Period 1: The Rideshare Driver's App Is Turned on, but There Are No Ride Requests Yet
During this period, ridesharing insurance is generally active. However, they often only offer liability coverage for passengers and other motorists involved in an accident.
For example, Uber maintains insurance on the driver's behalf if the driver's auto insurance does not apply:
$50,000 in bodily injury per individual
$100,000 in bodily injury per accident
$25,000 in property damage per accident
Period 2 and 3: There Was a Request, and the Rideshare Driver Is En Route to Pick up the Passenger or Is Driving the Passenger to Their Destination
Once a rideshare driver is paired with a customer, they will have insurance coverage through the rideshare company until they drop off the customer at their destination. Usually, these rideshare companies are required to carry a $1,000,000 liability insurance policy. However, they may also offer additional coverage.
For instance:
Uber's drivers have $1,000,000 of uninsured and underinsured motorist bodily insurance coverage, but the company also provides them with comprehensive and collision coverage with a $1,000—$2,500 deductible, as long as the rideshare driver has their own collision coverage on their personal car insurance policy.
Lyft also provides rideshare drivers with comprehensive and collision coverage, as long as they have collision coverage on their own car insurance policy. However, Lyft has a deductible of $2,500, which needs to be paid out of pocket before the company can cover any damages.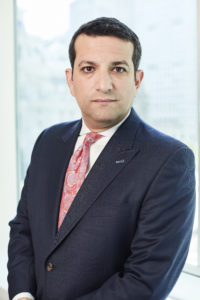 If you were injured in a rideshare accident and want to know if you can collect compensation from the rideshare's insurance company, reach out to an experienced Atlantic City rideshare accident attorney as soon as possible. These lawyers can investigate your accident and figure out what insurance coverage you can pursue.
About The Levin Firm
At The Levin Firm, our legal team is passionate about our jobs and helping people get back on their feet. We take fighting for our clients seriously, and we want to make sure you get the legal help you need through the whole process. For these reasons, our lawyers make it a point to handle your case the entire time and be available to you from start to finish.
Our firm's goal has always been to get accident victims fully compensated for their losses. Fortunately, with our legal team's drive, dedication, and experience, we make this goal a reality and have collected millions of dollars for our clients through jury verdicts and settlement awards.
If you or a loved one were hurt in an Atlantic City rideshare accident, do not wait any longer to get the legal help you need. Contact The Levin Firm online or call (609) 250-2800 today for a free case consultation, and let our car accident attorneys show you how we can fight for you.
---
Atlantic City Office
Attorneys Gabriel Levin and John Mattiacci at The Levin Firm welcome the opportunity to meet and work with you.